Angsana Ihurur - Maldives
Angsana Ihurur is one of the most picturesque islands you will ever see and it is one of the current projects in the works here at Fiber Thatch. Angsana Ihurur faced a challenge that many resort owners have come to dread, re-thatching…
The big problem that comes with re-thatching is that it will not last. Given a few years and this beautiful resort will be back to the problem where it started. However, here at Fiber Thatch we offer Synthetic Thatch Tiles in a variety of styles that look exactly like the reel thing, if not better!
See for yourself!
Our product comes in a variety of different colours that will not fade or decay. We believe so much in our product that we even give a 20-year manufacturing warranty.
Make the switch to synthetic thatch and contact us today!
COMO COCOA ISLAND RESORT MALDIVES
COMO Cocoa Island is one of the more recent projects that we are proud to showcase here today! This small luxurious resort was reopened on the 9th of January 2020 following a short seven-month refurbishment. Fiber Thatch has never shied away from a short or constrained time frame. We understand time is money and so our product is not only quick to install but easy and hassle-free.
COMO Cocoa Island has 33-overwater villas inspired by local Dhoni boats that were refurbished in our Fiber Palm Ocean Synthetic Thatch Tiles. A beautiful finish that complements the design better than that of the natural palm used before.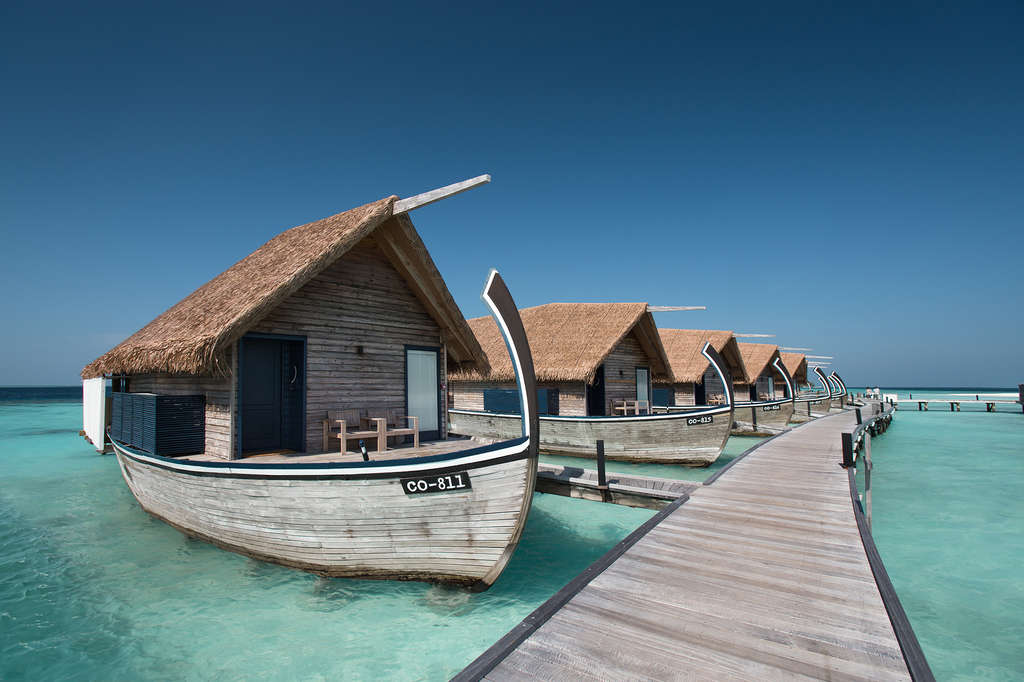 The refurbishments of this resort did not stop there, a few new structures have also been added such as the open-sided Pilates and yoga studio, and a state-of-the-art new gym. The interior finishes were also updated to match that of the breath-taking exterior, our Fiber Palm Ocean Ceiling Matts is a great add-on to any interior. The rest of the resort was also completed in the iconic palm leaf-like finish which really adds to the overall tropical feel that you can expect to experience at a destination such as this. The overall look and feel of our products are not the only benefit it offers. Our Synthetic Thatch Tiles, regardless of finish, all come with the below-listed advantages: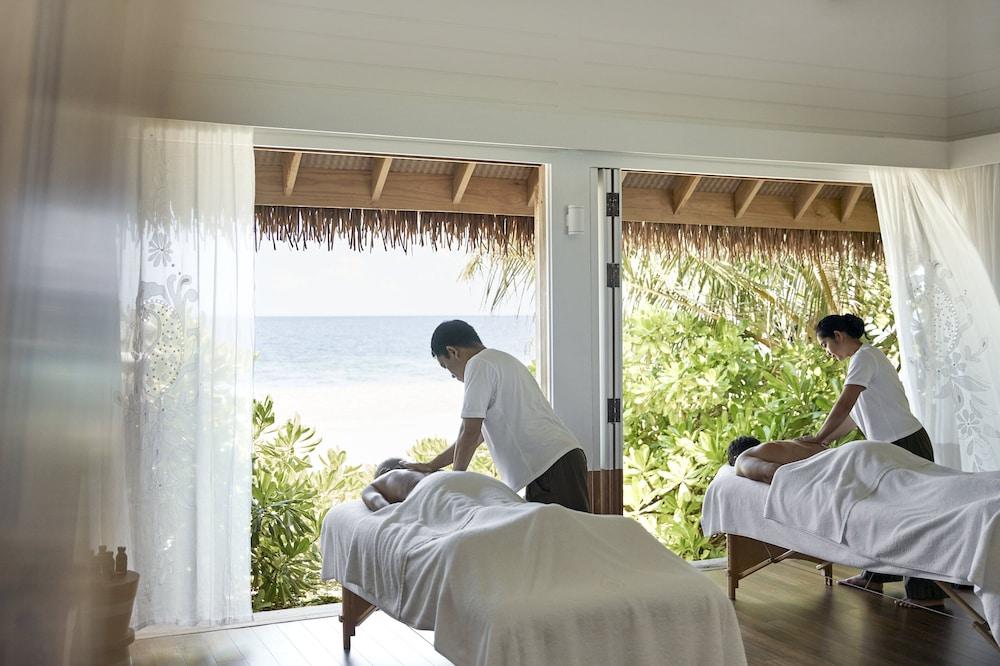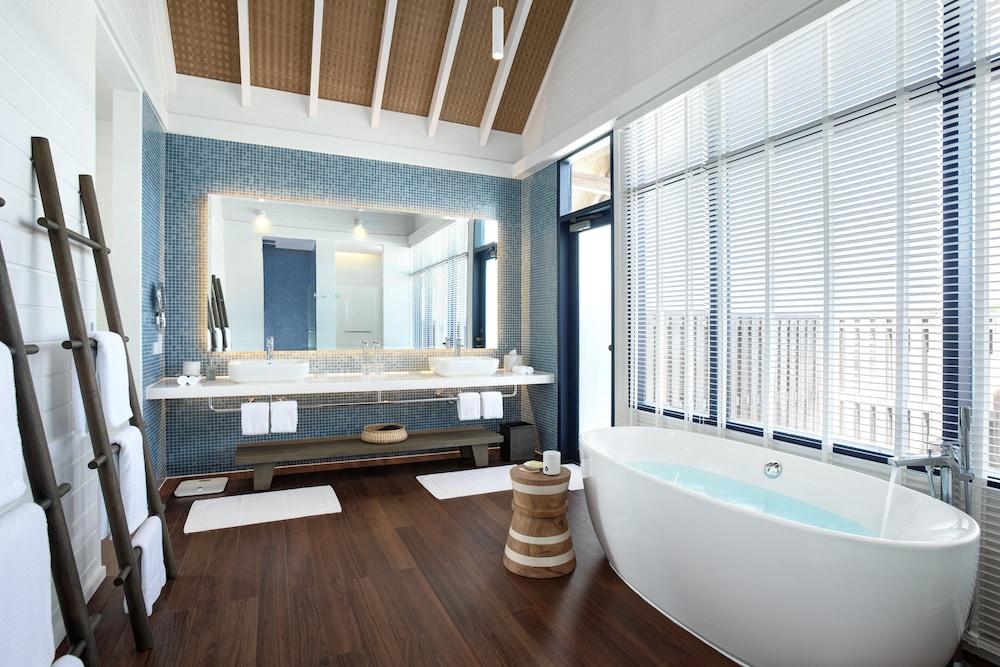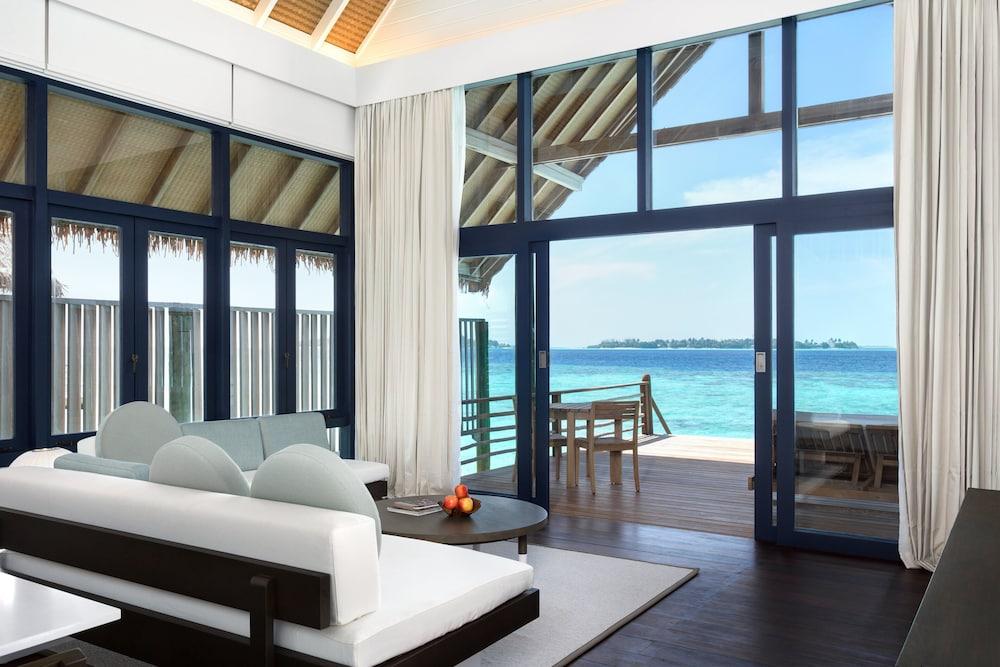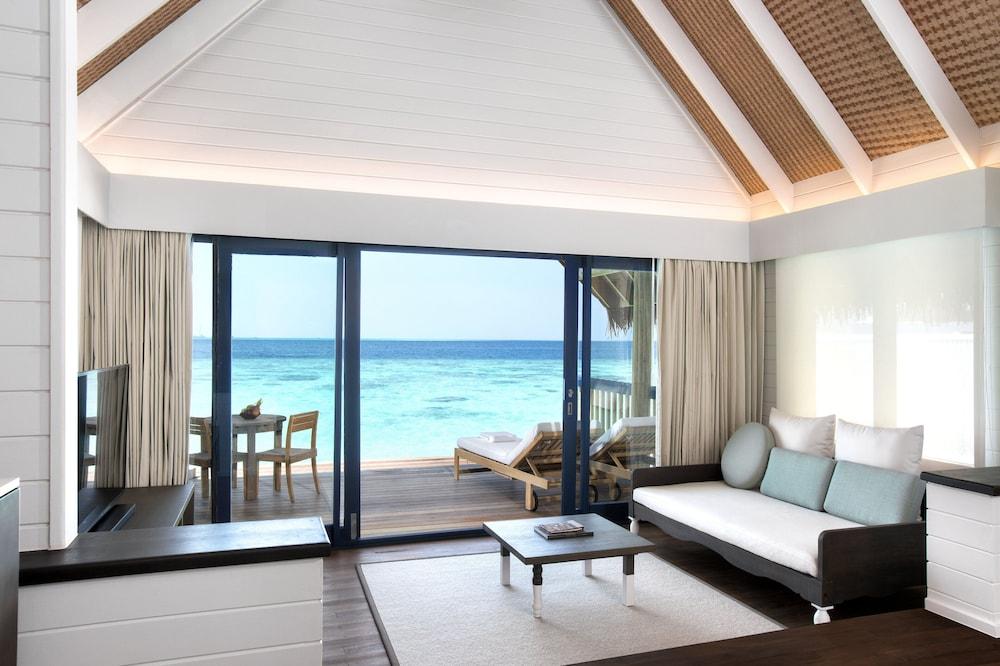 20 Years Manufacturer's Warranty.
Life Expectancy 50 Years Plus!
Looks Just Like the Real Thing.
Perfect for All Climates.
No Maintenance Required.
Withstands Winds of Over 180 Kph.
UV Resistant and Colourfast.
Fire Retardant.
No Rotting or Decay.
No Toxic Mold Build Up.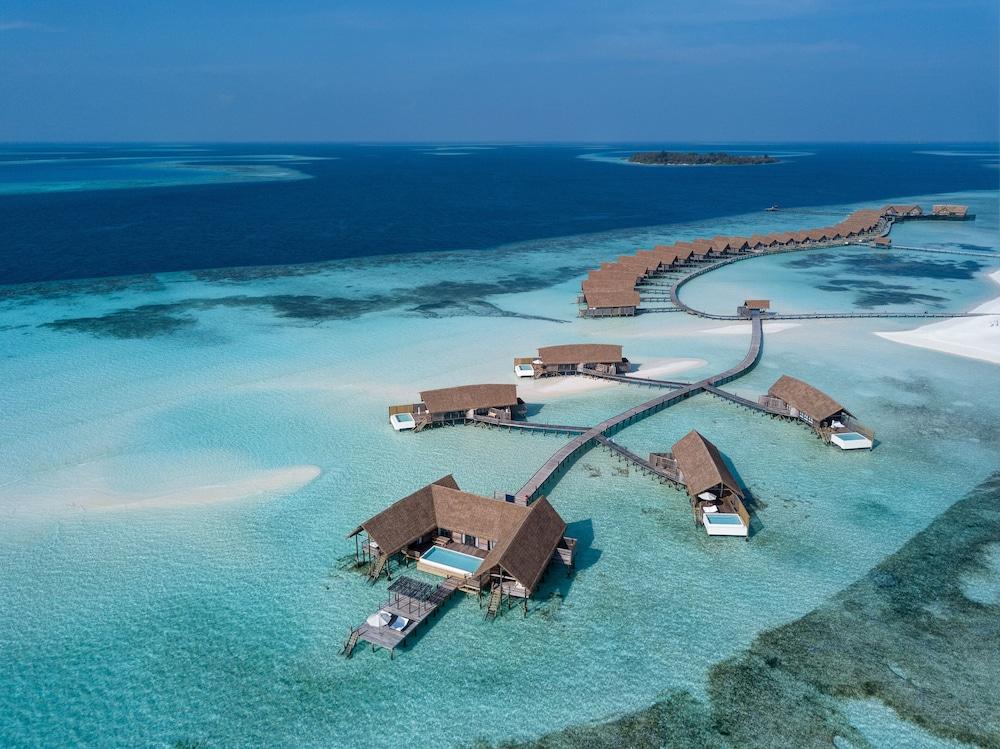 Bodufinolhu Resort The New Flagship For Browns Arri Resort
Browns Investments PLC has undertaken a new project, they are opening Bodufinolhu Resort the new flagship for Browns Arri Resort. A brand new 5-star resort destination located in the Maldives.
Browns Investments PLC did not hesitate to contact Fiber Thatch for their synthetic thatch roofing solution! Only the best for this prestigious resort!
We are in the process of completing this 18 000 m² project, this is truly a proud addition to the Fiber Thatch resorts family!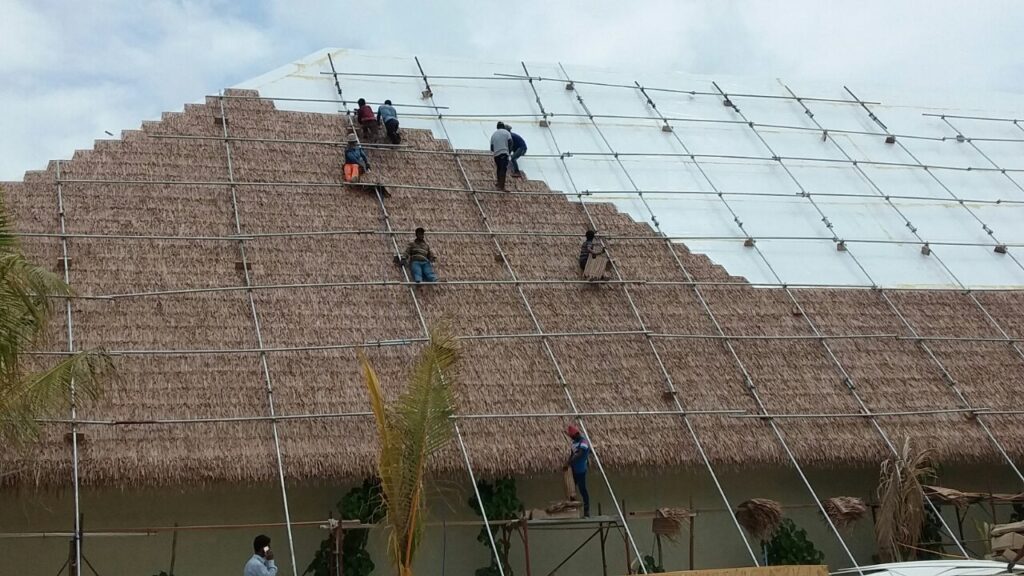 A Luxurious Custom House On The Serengeti Plains
Offering a refined yet luxuriously impression, this contemporary luxury African home on the plains of the Serengeti was designed to be an exclusive aged retreat.
The Swiss native couple, Pascal and Loren Sharapan were looking for something different when they decided to build this magnificent home in the Masai Mara in Kenya. Being influenced by ritual and culture like those of the Maasai tribe, they decided on something traditional that would blend in with the surrounding beauty of the Serengeti.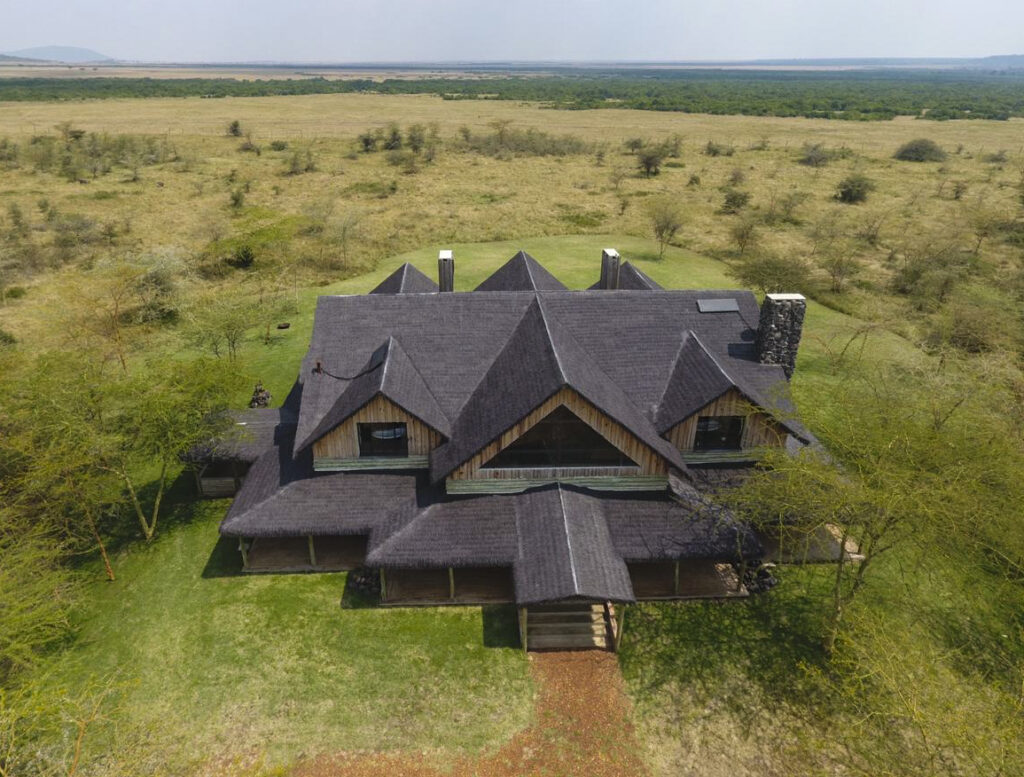 They built the house using local labour, resources and inspiration, measuring a 1000m², this house is truly something to behold. But they where soon faced with a problem, the roof! How where they going to finish this magnificent structure off with something that will add to the surrounding influences that they aspired to achieve, as well as having something that will be safe from fires and the natural decay from the hot environment surrounding the Serengeti?
They soon found us!
We where able to offer them not only peace of mind with the amazing characteristics our synthetic thatch has to offer but also being able to cater to the more custom look they wanted to achieve. Our synthetic thatch is not susceptible to sun damage and doesn't fade in colour. It is also fire retarded and will not rot or decay, it is literally maintenance free. A perfect answer for a house in such a remote tropical location. We also created a unique custom colour synthetic thatch for this project, something that looks aged and lived in and that will go well with the rest of the environment.
Our synthetic thatch is so easy to install that after a quick demonstration our satisfied customers where able to use local labour to finish the job. The end result is a flawless home perfectly settled in with the surroundings of the vast Serengeti plains.
A Pre Covid-19 Project Nearing Completion House Rosen - In Vunabaka Estate; Malolo Island; Fiji
Fiber Palm Synthetic Thatch has done it again! This modern tropical gem is one with the palm trees and surrounding ambiance you would come to expect from a luxury's destination like Fiji. The credit to this excellent execution comes from the use of the Fiber Palm Synthetic Thatch product. This synthetic thatch product was developed to cater to the needs of tropical destinations as well as to help battle some of the challenges these tropical regions face. Fiber Thatch succeeded in this and House Rosen is a great example of why!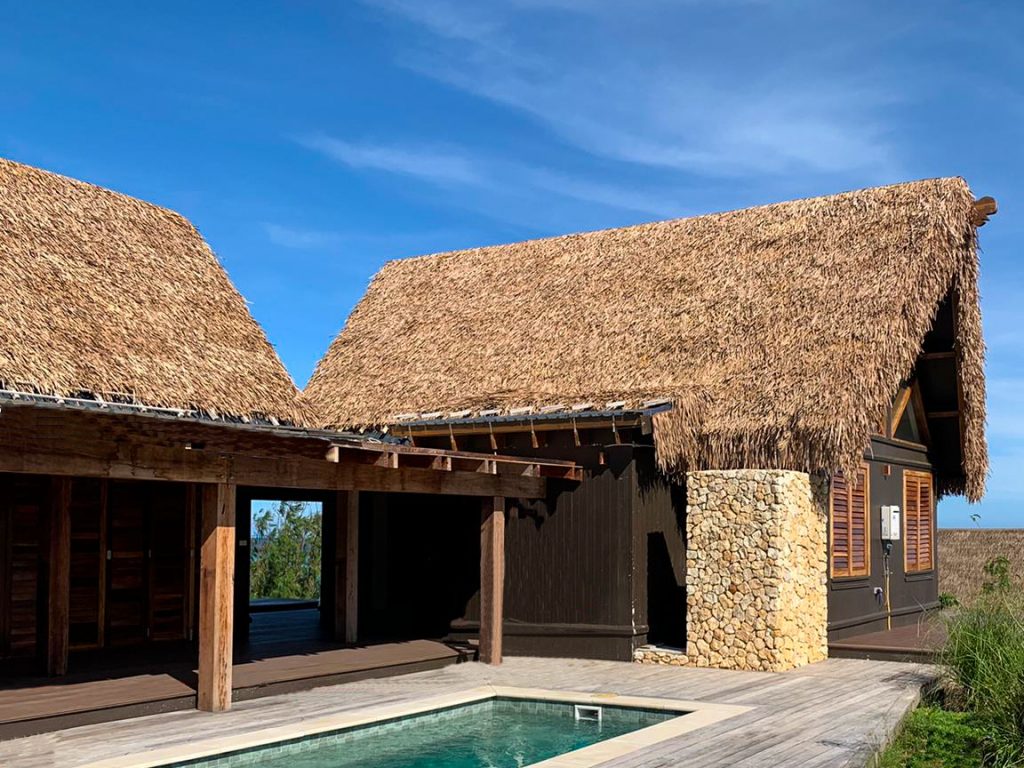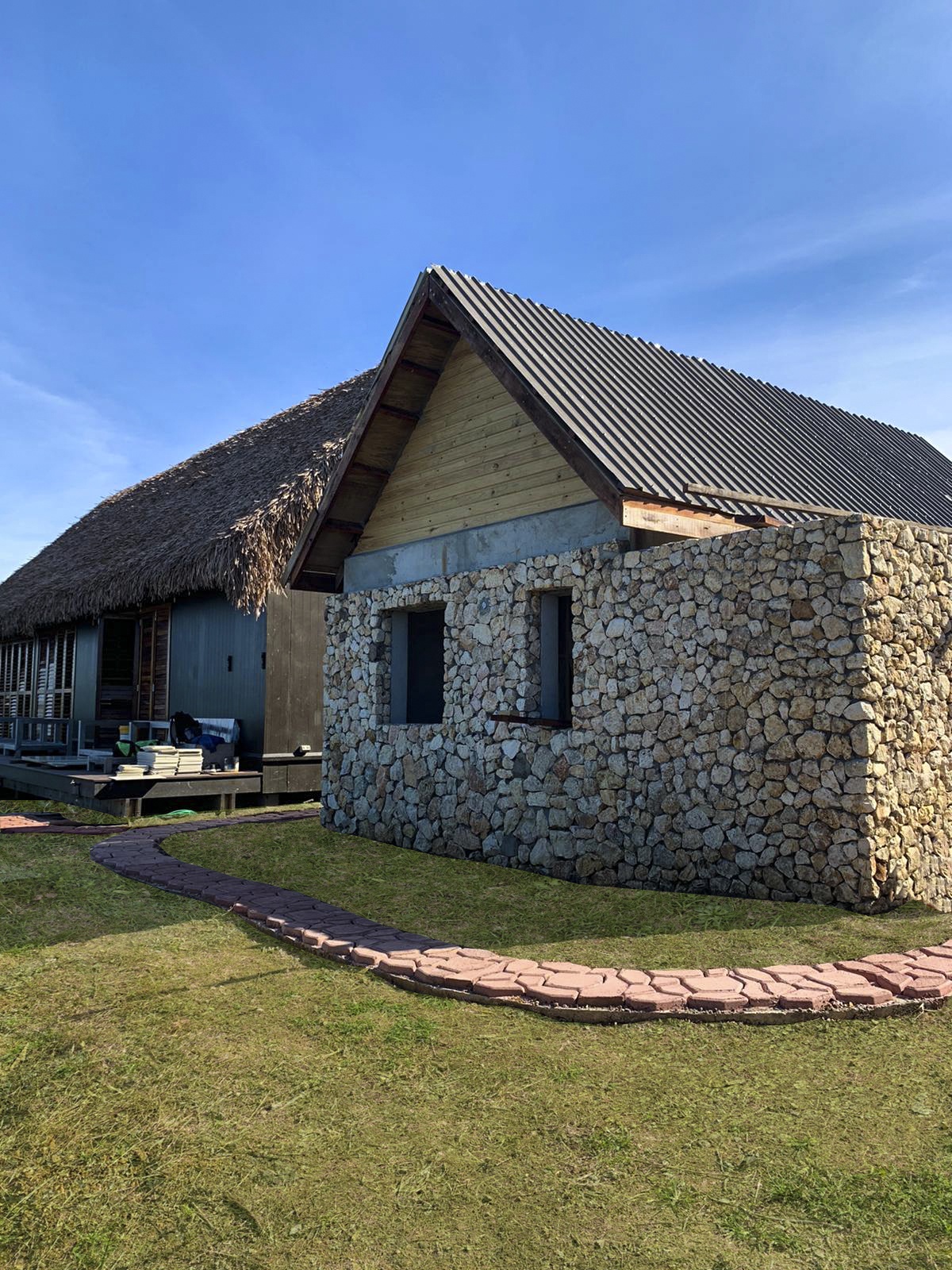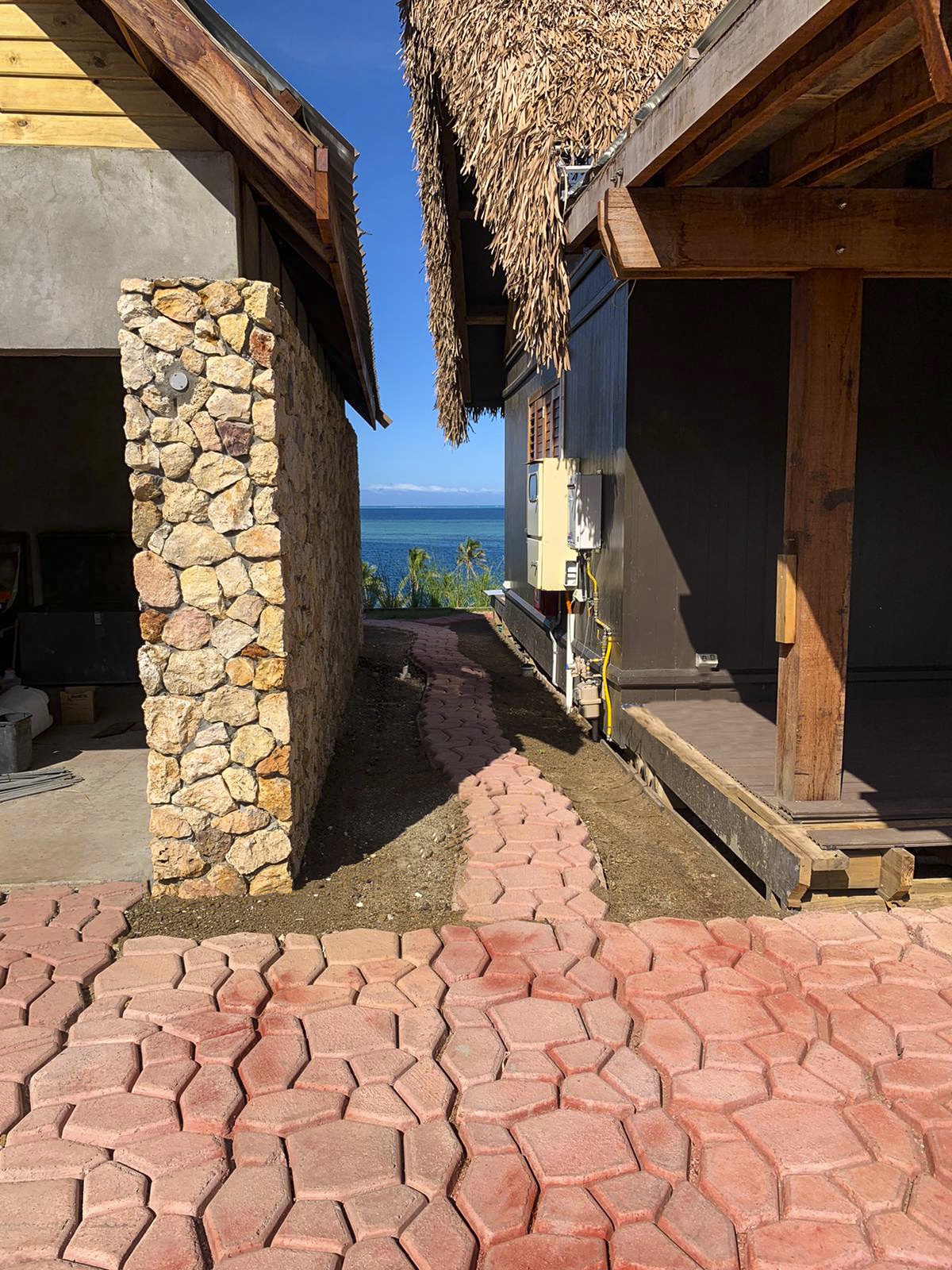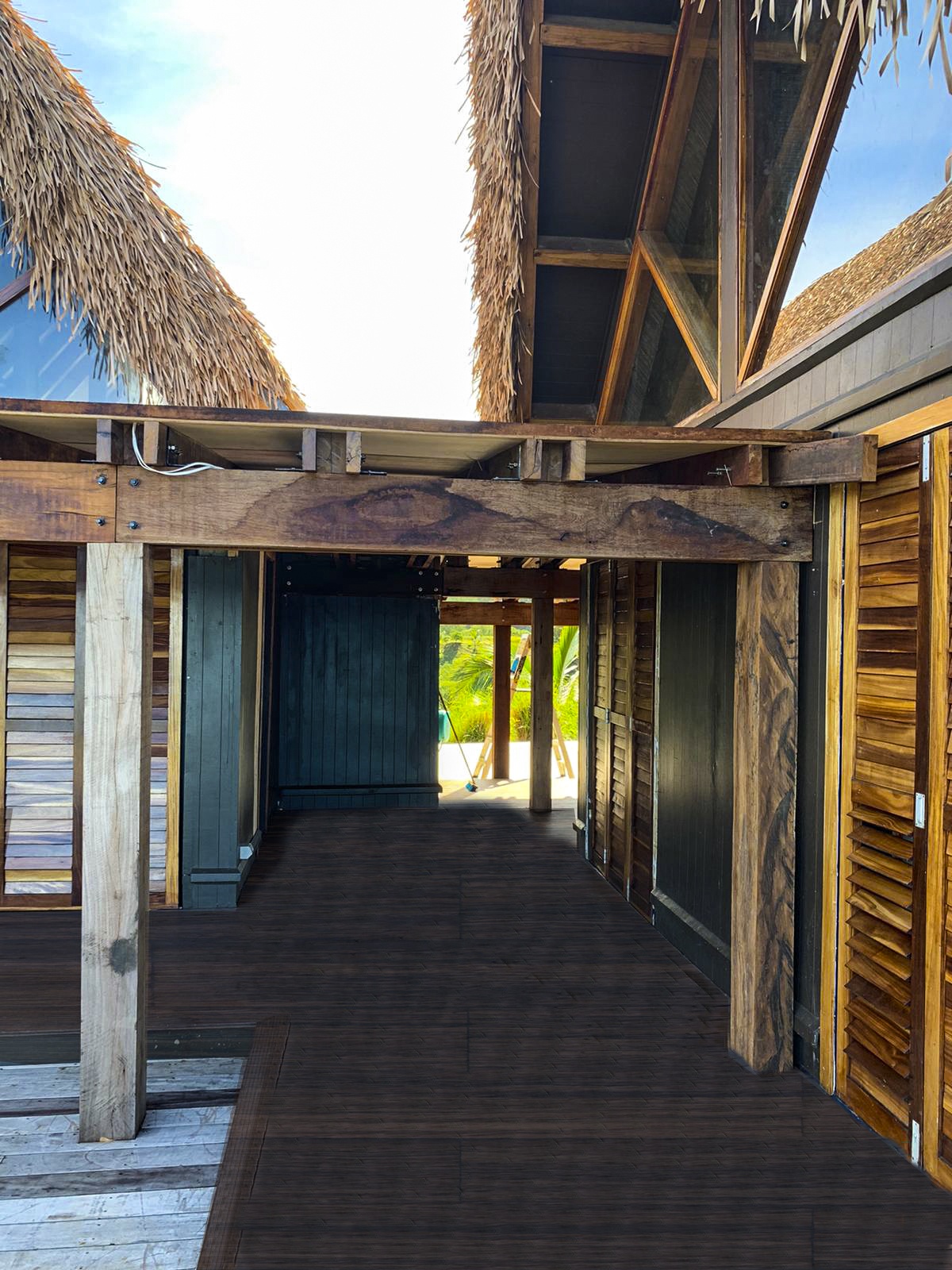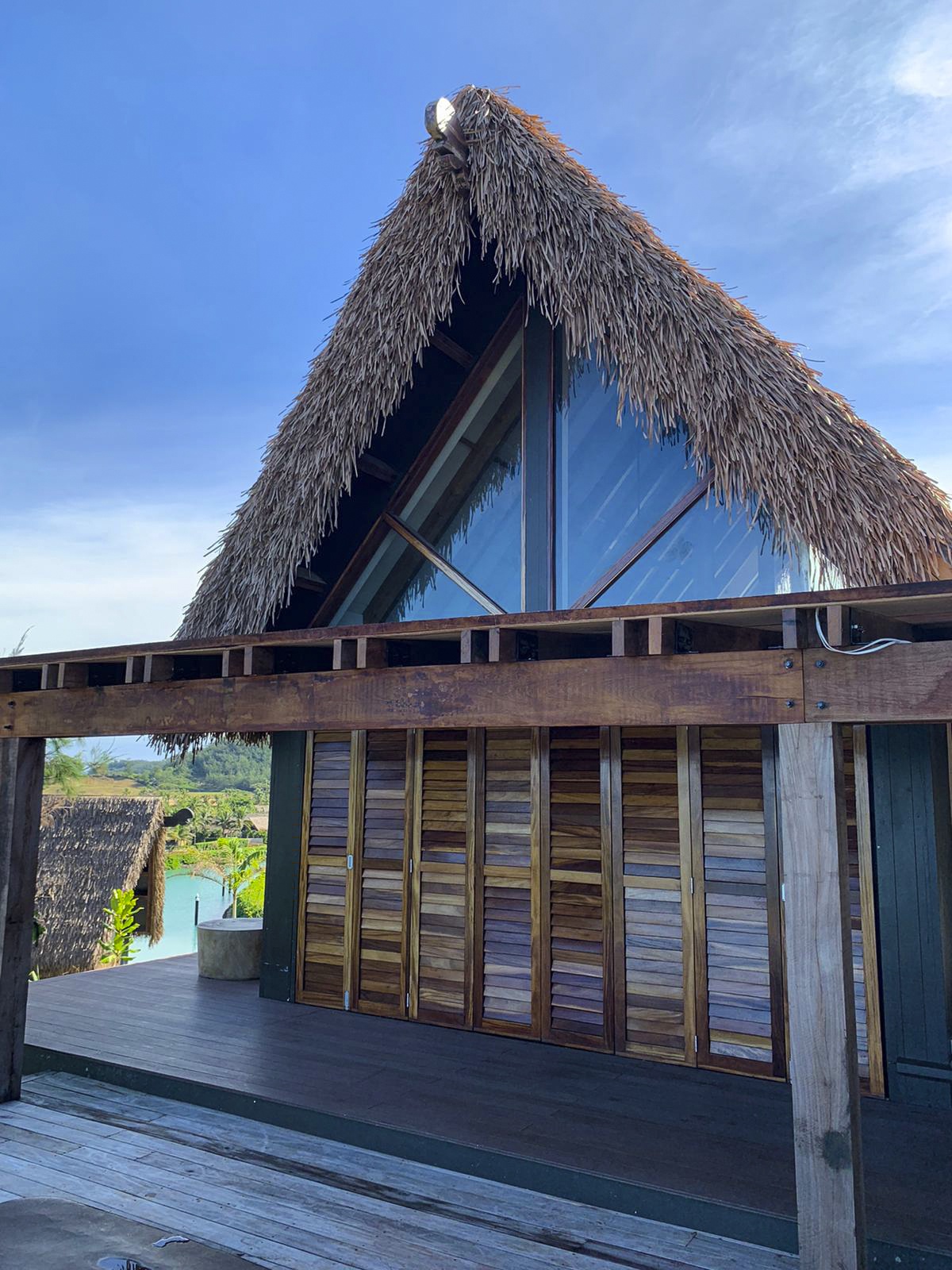 House Rosen is in the Vunabaka Estate on Malolo Island in Fiji, the estate is a residential and hotel development in this private tropical island paradise. This community encompasses 120 acres of hill-top, marina, ocean, and beachfront sites centered around breathtaking views of Fiji. This world-class home balances so well with the surroundings of its tropical destination but, in the same sense radiates luxury of a 5-star resort. Striving to find the perfect product that matches the natural Tahitian Palm Thatch the house owner found the perfect match after discarding many poor imitation thatch products. Fiber Thatch's Synthetic Palm Thatch achieves this by its 100% natural look and its superior quality and durability. At House Rosen, looks are not the only factor!
Any beautiful house in this tropical, humid destination will face a range of challenges. Luckily, Fiber Palm is not only aesthetically pleasing but will offer any owner a sound peace of mind. The Fiber Palm Synthetic Thatch product will not rot or decay and is ideal for these humid regions. Fiber Palm is also completely fire-retardant and will withstand winds of over 180 kph, perfect for those tropical storms. The ultimate advantage of this revolutionary product is that it requires no maintenance at all and will last up to 50 years without needing to be replaced.
Post COVID-19 Lock Down,
Fiber Roofing Is There For You!
Fiber Roofing factory was allowed to open on the 1st of May under level 4 lock down, with a special permit. Social distancing in the workplace the new reality, as well as many other regulatory requirements and restrictions on the numbers of employees at the factory. We divided our staff into shifts and started to manufacture. This ensured all the employees could work full work weeks and receive full compensation, but more important we could produce and fulfil all our commitments to client's orders. Everybody was eager to work, and with such a great attitude, it made us realize that the strength of Fiber Roofing lies in its devoted employees.
With a team like this any challenge can be concurred.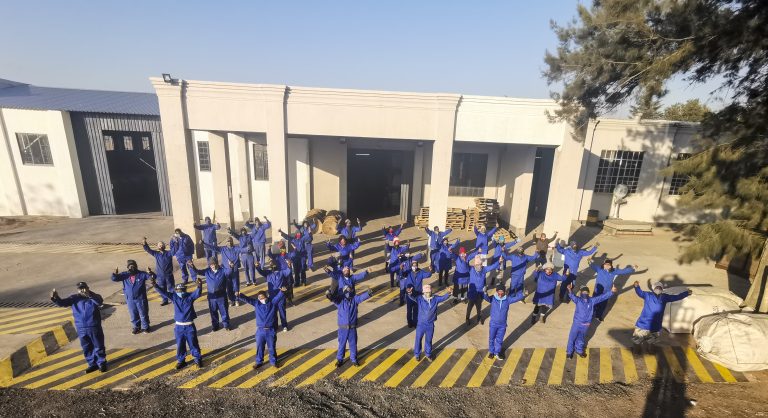 John Keells's Cinnamon Velifushi Resort in Maldives
Hidden away in the heart of the Indian Ocean are hundreds of astonishingly beautiful coral islands known as the Maldives. Amazing blues contrast with bright white sand, creating the perfect setting for your dream holiday.
Travelers looking for a new experience, romance, or just a break from the whole rat race of life will not be disappointed. Cinnamon Velifushi Maldives is the best-kept secret because of its world-famous surf point, a dramatic surf break with crashing waves to one side of the island and a calm lagoon for snorkeling on the other. This superb island resort offers lavish living spaces with more than 150 sophisticated rooms, restaurants, and bars. Rooms here are simply furnished and finished off with iconic thatched roofs and the choice of accommodation varies from garden bungalows to beach and water bungalows. Nevertheless, each option is unique and memorable.
Kick back and relax in the luxury of the spacious "Over Water Suite", or unwind at the Spa. As one of the top Maldives resorts, Cinnamon Velifushi Maldives is the perfect destination for the travel-loving pleasure seeker.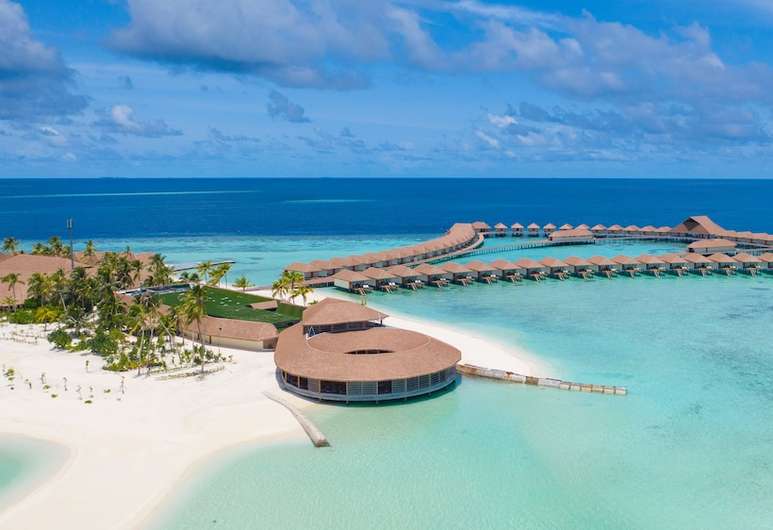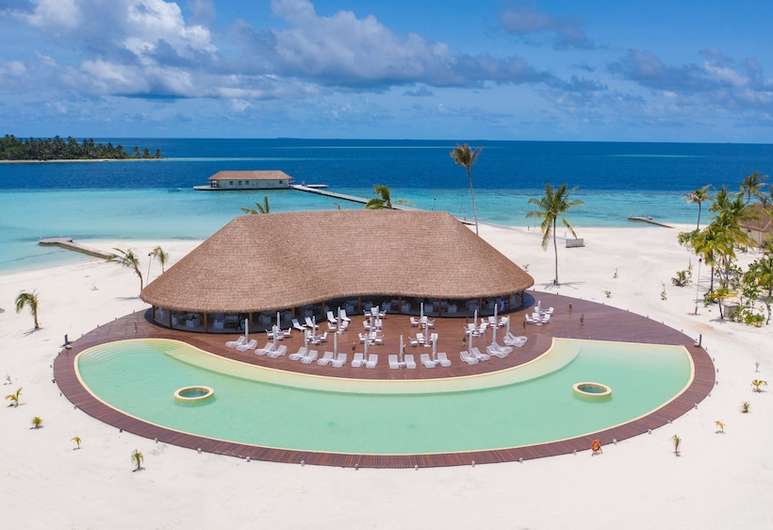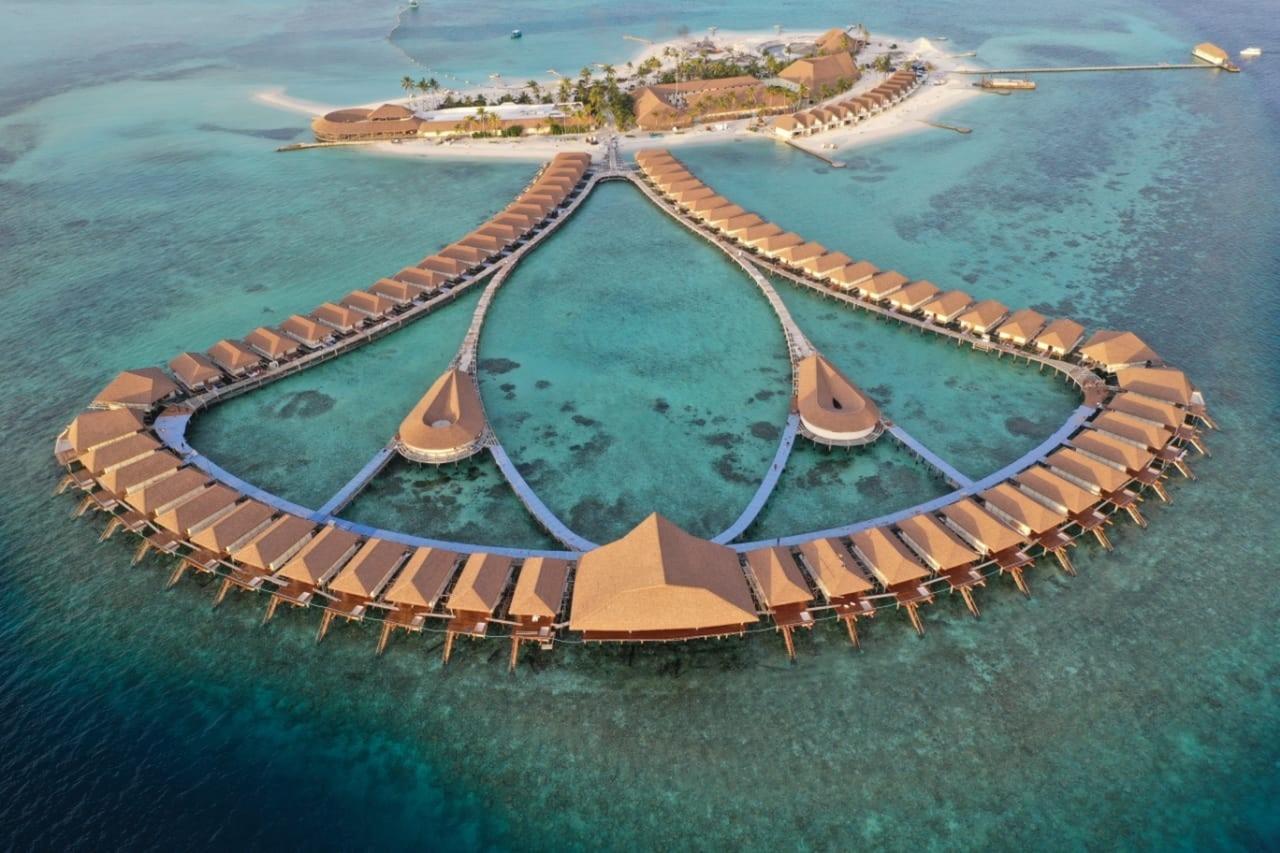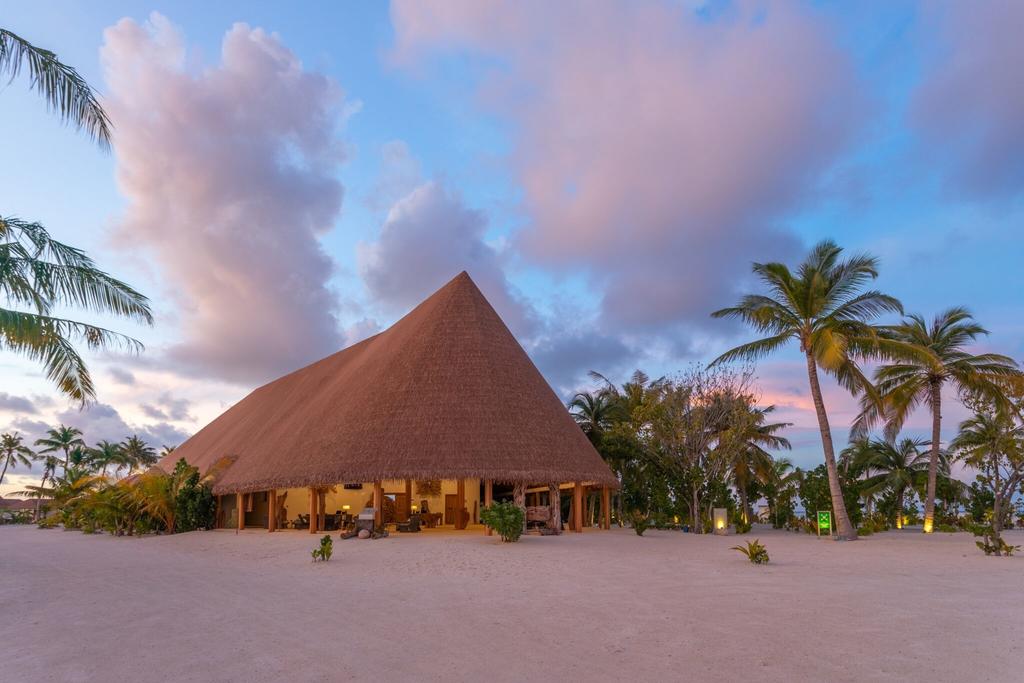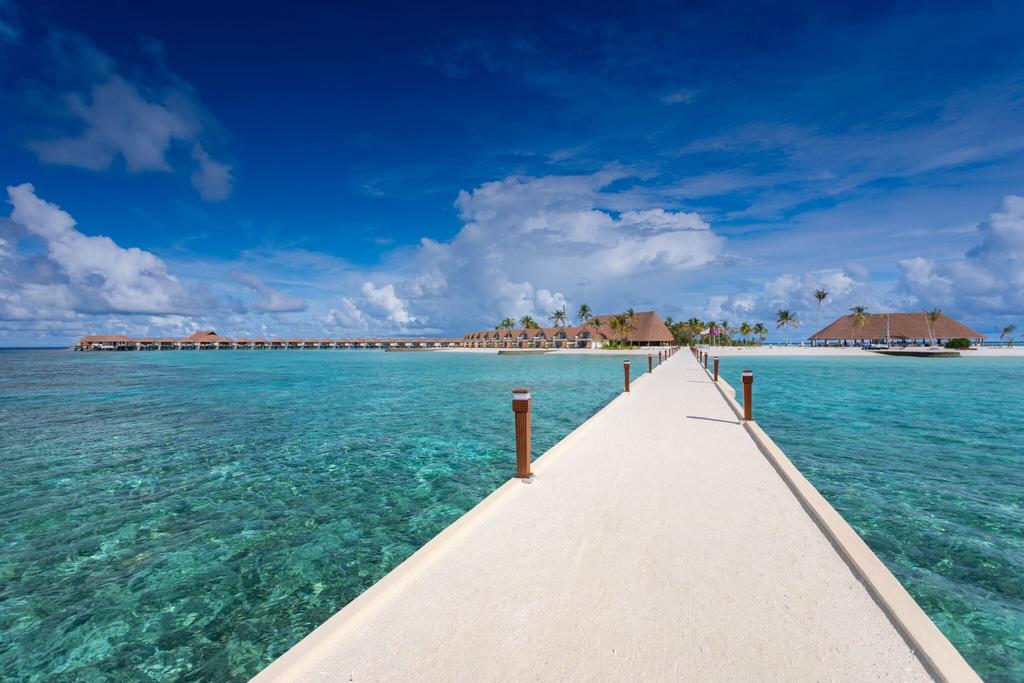 FIBER ROOFING CC IS BACK POST COVID-19 LOCKDOWN
Fiber Roofing cc is very excited to be back after the five week lock down under stage five as a result of the world wide Covid 19 pandemic. We have been allowed by our government to return with limited staff during stage 4, after receiving a CIPC certificate that allow us to return to work to service our customers all over the world.
Our first container since our return, is loaded and on route to one of our consignees in the United Kingdom. (Pictures to the right)
Our spirits are high; it is good to be back. We trust that this will be the first of many containers we can load and ship, to assist in rebuilding the South African economy after the devastating impact of the Covid 19 Pandemic on our economy.
God bless and be safe!!​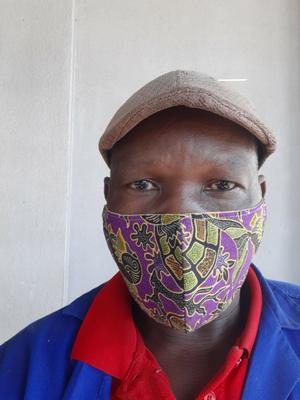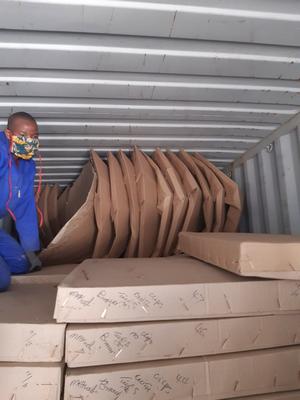 FIBER ROOFING AND A.C.G.M. START WORK ON THE NEW INTER CONTINENTAL WARDA RESORT ON LIFOU ISLAND, NEW CALEDONIA
Fiber Roofing cc is very proud of our newest project involvement on Lifou Island in New Caledonia. We have entered into an association / partnership with A.C.G.M. SARL of New Caledonia. Fiber Roofing is the synthetic roof manufacturer / supplier, for the new Inter Continental Warda Resort on Lifou Island.
According to Fiber Roofing cc CEO Daniel Vorster, the new Association with A.C.G.M. SARL is eight years in the making and will result in a huge impact on the New Caledonia and surrounding island nations, resort and hospitality industry. For the first time, it will be possible for existing resort owners and new prospective resort owners to do turnkey projects on their resort roofs, whether new or refurbishment. The highly professional and skilled A.C.G.M. SARL team, equipped with the best possible quality synthetic thatch options, for the first time will be able to tick all the boxes when it comes to natural looking synthetic thatch resort roofing.
During his recent visit to the current resort development in Lifou Island in New Caledonia, Daniel and some of the most experienced synthetic thatch installation expert technicians from Fiber Roofing cc provided first hand, on the job training on all the aspects of the synthetic thatch installation to A.C.G.M. SARL's already highly skilled carpentry and roofing teams and their management.
The Fiber Roofing techs spent 10 days on site teaching and installing the Fiber Reed Synthetic thatch with the A.C.G.M. team. Daniel says he was so impressed by A.C.G.M. as everyone was extremely keen to learn, even the top management got onto the roofs to learn how the installation should be done.
As in the photos on the right hand side, it is clear that the A.C.G.M. team are well skilled in the installation of the Fiber Roofing Synthetic thatch. The Completed roof s are beautiful and expertly installed. In Daniels own words "Well Done A.C.G.M.!!!!!"