FIBER PALM IS THE MOST ECONOMICAL SYNTHETIC THATCH ROOF COVERING MATERIAL IN THE WORLD.
REQUIREMENT - ONLY 3.2 TILES PER SQUARE METER
Building and adding to the unbelievable success of the Fiber Thatch Synthetic tiles worldwide that was achieved with Fiber Reed Synthetic, Fiber Roofing developed The Fiber Palm tiles. This range of synthetic thatch was developed to cater to the resort developers need, to be able to find a long-lasting top-quality synthetic thatch. That not only looks 100% natural but is of a superior quality and durability all wrapped in a super economic option. The backbone of the Ocean is the 25 years of experience and impeccable reputation associated with Fiber Roofing's synthetic thatch. However, the new style and composition of the Fiber Palm had to be authentic in appearance, easy to install, durable, economic and trustworthy.
Value For Money Is Unbeatable And Unmatched.
We are extremely proud of the newest addition to the Fiber Roofing synthetic thatch family. The Fiber Palm has had a remarkable success story and numerous resorts have successfully been supplied and completed within the last five years, well in excess of 300 000 m² of roof area.
This unique synthetic thatch option is different to all other options world wide and caters for the full spectrum of synthetic roofing. We have specialized edge, bushy and ridge tiles that in combination with the standard tiles provide and tick all the required boxes. Using various combinations all styles of thatch finish can be achieved.
COLOUR OPTIONS – WE CAN MATCH ANY COLOUR!
STANDARD OPTIONS - FIBER PALM STANDARD
Size: 800mm (32") x 650mm (24") x 6mm (¼") to 12mm (½")
Weight: +/-1.1kg
Product Code: FPIO
Description: The Palm tiles are designed to be used over a sub-roof, such as Fiber MO Board, waterproofed ply wood or even spaced wooden battens. The Fiber Palm tiles will provide the most realistic thatch roof finish, and a major benefit ZERO maintenance. 
Box Size: 670mm x 810mm x 210mm
Weight per box: +/- 26.5 kg
Volume Per Box: 0.1153 m3
20ft Container (33 m3): 286 boxes
40ft Container (67 m3): 580 boxes
HC 40ft Container (76 m3): 660 boxes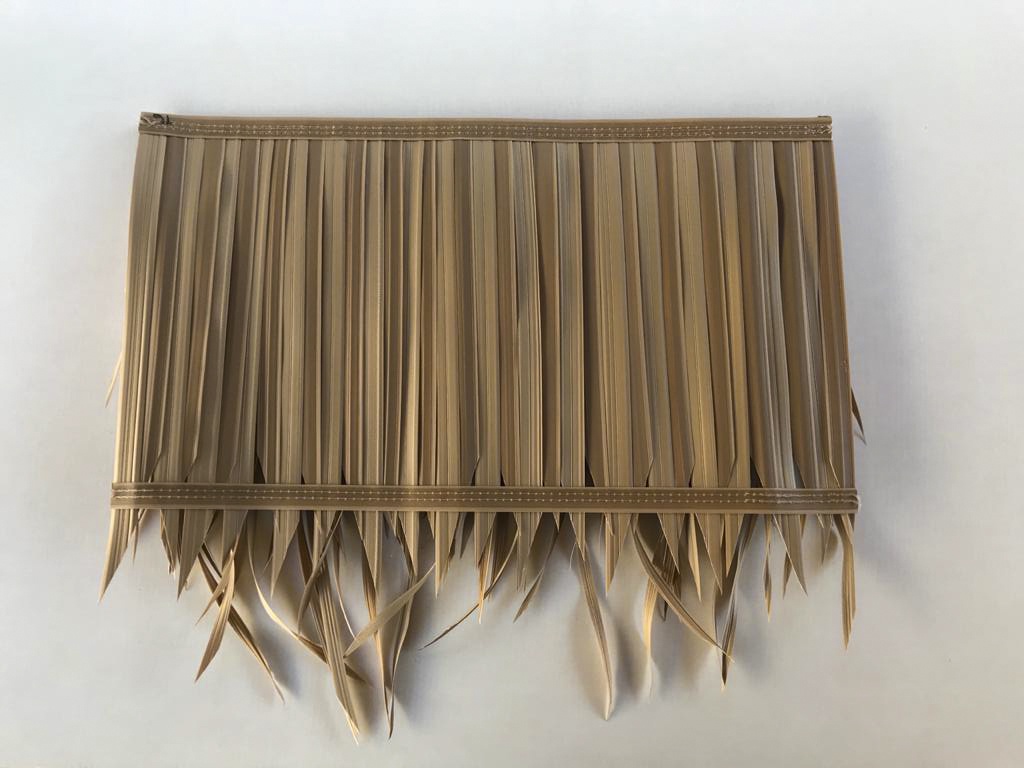 CONTACT US FOR A FREE QUOTE